Windows 8 Manager v2.1.1

Kit de mantenimiento y optimización para Windows 8
Windows 8 Manager es la primera suite de herramientas para optimizar tu flamante Windows 8. Incluye un montón de opciones de configuración y utilidades para limpiar el disco, desinstalar programas, reparar el registro, etc.
Todas las funciones de Windows 8 Manager se muestran en un panel central, categorizadas según su tarea principal: información de sistema, limpieza, optimización, personalización, seguridad, ajustes y utilidades misceláneas.
Al abrir cada una, el programa mostrará sus opciones en la parte derecha o abriendo una nueva ventana, si es conveniente. Muy útiles son los asistentes de limpieza de Windows 8 Manager, pues llevan a cabo sus procesos de forma ordenada y transparente.
Windows 8 Manager es un buen programa de mantenimiento y limpieza. Sin embargo, nos sentimos bastante defraudados porque la optimización para Windows 8 es poco menos que un placebo: realmente sus creadores han dado un lavado de cara a su herramienta para Windows 7, obviando las nuevas características de este sistema.
En cualquier caso, Windows 8 Manager cumple su función y se adelanta a competidores como TuneUp.
Cambios Recientes.
Windows 8 Manager v2.1.1 released! (07/19/2014)
Add the tweak "Always Open New Desktop Apps Instance from Start Screen" in Customize System section.
Optimization Wizard updated to v2.5
Computer Manager updated to v1.8
Perfect the High DPI UI icon for System Information, Repair Center, Startup Manager, Registry Cleaner, Service Manager.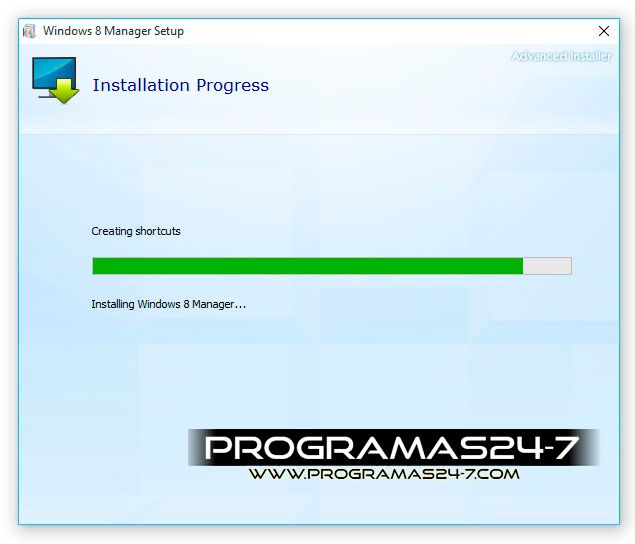 Sistema Operativo: Windows® XP, Vista, 7, 8, 8.1, 10
Arquitectura: 32-bit & 64-bit
Idioma: English.
Peso: 10.5 MB
Ver Enlaces